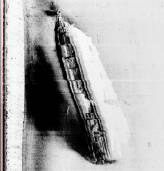 AzulMar Research, LLC provides side scan sonar survey, oceanographic data collection, data analysis, and fusion services as well as project and program management, system development, and data interpretation training services to a variety of commercial and government clients.
Our personnel are the key to our success. AzulMar Research personnel are among the most experienced professionals in the business. Our personnel have an average of 10 years of experience in the marine survey industry.
AzulMar Research, LLC provides these services for projects at any depth from two inches to 20,000 feet of water.

(410) 610-2655
jeff@azulmarresearch.com